Tory the island kingdom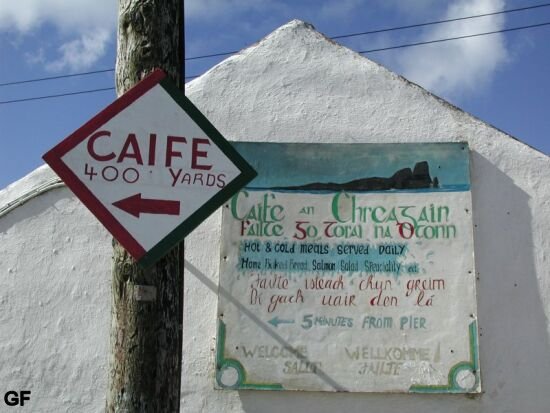 Those of you following this blog may be aware of the fact that I´m taking this really interesting week long archaeology slash folklore course. Well I´m thoroughly enjoying it :-D It is remarkably invigorating being back in the folklore environment and fun meeting the professors and teachers. Admittingly it has brought to front the minor issue of my thesis, seeing as everyone I meet here asks me where I´ve been and what I´ve been studying, all these people have had such high expectations of me and here I am .... and haven´t even finished my Ba :-/
Anyways to get back on track,
Tok
told us today of an island off the coast of Ireland caled Tory. Apparently this would be the last kingdom in Ireland seeing as this tiny island community sports a king, recognizable by his gold earring ;-). His name is Patsy Dan and as well as being king he´s a musician, an artist and always greets women visitors to the island with a kiss ;-) The inhabitants claim to be descendants of the mythical sea faring Fomorians and not be a part of Ireland, and as such defy the authorities by not paying taxes.
This Gaelic speaking island has been inhabited since the earliest times and is rich in archaeological and monastic sites, including Balor's Fort (Dún Bhalair) on the east of the island which takes it's name from 'Balor of the Evil Eye', a celtic mythological figure. The islands shape is supposed to be of him (didn´t quite catch th exact term) and looking at the form of the island one can see Balors form. From right to left head, belly ... ;-) something sticking into the air (must say Toks artistic renderings gave Balor more credit ;-) and his feet.
Well I was infatuated :-) (By the island not the.... you irritatingly predictably perverted ones !! ;-)
Fun facts on Tory
Folklore and history
Stories from Tory Island
sounds like an exciting book
Na daoine, na h-aillte arda, na h-iarsmaí manachúla agus scáth Bhaloir Na Súile Nimhe; tá siad uilig ag fanacht ar an gcuairteoir go Oileán Thorai.